Voodoo Ranger is a brand of IPA's produced by New Belgium Brewing Company out of Fort Collins, CO. They were created in 2017 in an effort to revamp their IPA's after New Belgium's Ranger IPA had become stagnant. Voodoo Ranger started off with just two beers – Voodoo Ranger IPA and Voodoo Ranger Imperial IPA. Since then, they have expanded to more than 20 beers.
Here at 52 Brews, Voodoo Ranger has a special place in our heart. It is our favorite brand of beer by far. While there are a countless number of other beers out there that may rival any specific beer from the Voodoo lineup, out of some 20 beers, we have yet to have a bad Voodoo Ranger. However, there are a few that stand out to us which brings us here: The Top 5 Voodoo Ranger IPA's.
Before we get started, I want to explain the two most important characteristics that go into our judging – taste and alcohol content. Like we said, we haven't had a bad Voodoo Ranger, but it's a bit easier to make a good tasting IPA at 5% abv than it is at 10%. So, without further ado, here is our list:
*If you or a loved one enjoy a good IPA, subscribe or gift a subscription to the Hop-Heads Beer Club!
1. Voodoo Ranger Higher Plane
ABV: 8.5%
IBU: 45
Hops: Citra, Huell Melon, Sabro, Jester, Mandarina
Calories: 230
Carbs: 15
Voodoo Ranger Higher Plane is an imperial, hazy IPA. An "imperial" IPA is a fancy way of saying the IPA is stronger and a bit darker than your typical American IPA. A hazy IPA refers to the cloudy appearance that comes from less filtration. This often leaves the beer tasting a bit fruitier and less bitter.
The Higher Plane, along with a cool design, is a delicious beer. The one word that comes to mind when I think of this beer is balance. You can taste the hops without it being too hoppy. You can taste the citrus, tropical flavors without it being too fruity. Is this the best tasting Voodoo Ranger, though? If it's not number one, it's certainly second or third and at 8.5%, it tops the charts for Best Voodoo Ranger.
If you know of a better beer at 8.5% or higher, please leave a comment because we would love to try it!
2. Voodoo Ranger Juicy Haze
ABV: 7.5%
IBU: 42
Hops: Citra, Cascade, Centennial, Simcoe, Nugget
Calories: 230
Carbs: 16
The Juicy Haze is, as the name suggests, a hazy IPA. You'll often hear hazy IPA's referred to as juicy, or named juicy "something", because that fruity flavor that hazy IPA's typically have.
The Juicy Haze was one of the beers we debated on about taste. That debate was: is the Juicy Haze the best tasting beer or the second best tasting beer? After putting the Higher Plane in the #1 spot, the Juicy Haze was an easy pick for the #2 spot. This beer is no lightweight, though, at 7.5% it'll have you feeling good after a couple!
3. Voodoo Ranger Liquid Paradise
ABV: 7.8%
IBU: 44
Hops: Mosaic Incognito, Azacca, Cascade
Voodoo Ranger Liquid Paradise is one of the more complex beers in the Voodoo series. It is the most aromatic of the beers and on the mouth its more on the bitter side. Strong tropical flavors, mainly pineapple and grapefruit, take hold on first sip.
The Liquid Paradise was a tough one for us to rank. It might be our favorite IPA in the Voodoo lineup, but not because of its taste. We absolutely love the name and the design of the can. The Voodoo Ranger skeleton lays out on a pink floatie over baby blue water. The can and name embody a beer that is meant to be drank under the sun, and if you're lucky, on a boat. We may be a little biased, but don't get us wrong, this is a very good beer. However, the strong tropical flavors and bitterness might not be for everyone though.
4. Voodoo Ranger Imperial IPA
ABV: 9%
IBU: 70
Hops: Delta, Bravo, Centennial, Cascade, Calypso, Mosaic
Calories: 250
Carbs: 15
The Imperial IPA, along with the regular Voodoo Ranger IPA, was the first beer in the Voodoo lineup when it started back in 2017. It is has the highest alcohol content in the Voodoo series and is hoppy as well. Up until this point, we have listed hazy and/or tropical IPA's in our top 5 because, well, they are our favorite kind, but the Imperial IPA is right there with them.
We could have easily thrown in the base IPA here as well, but the Imperial is every bit as good and boasts a 9% abv putting itself above the 7% original IPA. If you aren't one for tropical beers, this is your go-to. Just be careful, they go down like light beers!
5. Voodoo Ranger Future Hop
ABV: 8%
IBU: 40
Hops: Strata, Lotus, Nelson Sauvin
Calories: 220
Carbs: 14
Voodoo Ranger Future Hop is the latest beer in their rotator series. While it does have some tropical notes, it's certainly not as fruity as some of the other ones we mentioned. The future hop is reminiscent of the Higher Plane in that it is balanced. It's light and mellow with hints of fruit.
As we stated, we haven't had a bad Voodoo Ranger yet. So, there are 10 other beers we could've put here at the #5 spot. Since this is the newest beer in the Voodoo lineup and because it is a very good 8% beer, we decided to go with the Future Hop. I wouldn't be surprised, though, if as time goes on, this beer makes it's way further up the list.
Top 5 Voodoo Ranger IPA's Summary
There are probably 3 or so Voodoo Ranger IPA's that I've had and thought to myself meh, decent IPA but probably won't get again. Most of the other ones have been really good beers, and a couple of them I will buy every single time I see them. Even if you don't like IPA's, Voodoo Ranger is mild enough to be enjoyed.
Not everyone will be so high on the Voodoo Ranger train as us here at 52 Brews, and we get that and that's fine. But the consistency at which Voodoo Ranger produces high quality, deliciously tasting, and high abv IPA's is better than any brand to which I know of. The icing on the cake, for us, is the marketing strategy. Voodoo Ranger creates fun designs, commercials, and short stories for each of their beers and characters.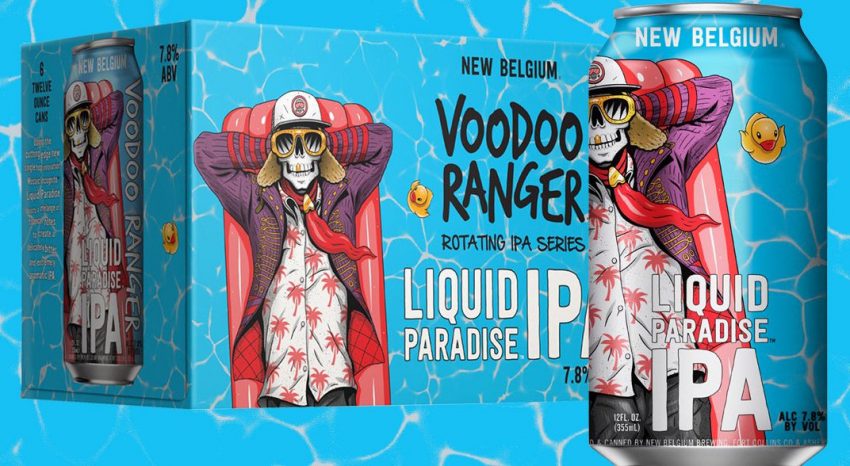 If you're interested in learning about whiskey from Colorado instead of beer, head HERE to read about Tincup Whiskey.
Voodoo Ranger FAQ
Below are some commonly asked questions about Voodoo Ranger or IPA's in General.
Who brews Voodoo Ranger?
Voodoo Ranger is brewed by New Belgium Brewing Company. They are the largest craft brewery in Colorado and fourth in the US. For more info on craft, domestic, and import beers check out our latest article.
Is Voodoo Ranger good?
At 52 Brews, we love Voodoo Ranger. Nationwide, Voodoo Ranger is generally considered to be a very good IPA. Their standard IPA received 4.7 stars on Drizly.
How Many calories are in a Voodoo Ranger Beer?
There are 200 calories in Voodoo Ranger's IPA. The Imperial IPA has 250 calories, and the rest of their beers fall somewhere in between.