There are many different ways to make a Michelada, and people make it in different ways based on their based on region, culture, tradition, personal preference, etc. Regardless of how you make this beer-based cocktail, it may not turn out very well if you're not using the best beer for a Michelada.
So, for however you plan to make your next cocktail, we've put together a list of the best beers to use to make a delicious Michelada.
What Is a Michelada?
Before we get into which beer to use, let's talk about what exactly a Michelada is. A Michelada is a Mexican beer-cocktail. It's typically made with beer, lime juice, tomato or Clamato juice, and various sauces and spices served over ice with a salt-rimmed glass. Due to it's many resemblances to our morning, hair of the dog, hangover cure in America, a Michelada is widely known as the Mexican Bloody Mary.
The different variations of a Michelada rely on the sauces and spices used, not just the beer. The most common sauces used are hot sauce and soy sauce; however, these can be replaced with other options. A Michelada is commonly served with chili peppers or serrano peppers and Worcestershire sauce or soy sauce. Clamato juice is often used in substitute of tomato juice. Clamato juice is a sugary concentrate of tomato juice with assorted spices and dried clam broth.
Origin of the Michelada
A Michelada is a Mexican cocktail, so we know where it originated, but how did the Michelada come to be? One theory is that it's simply a blending of words. Mi is Spanish for my, chela is another way to say cold beer, and helada is ice. Put them all together and you get Michelada, or my ice cold beer.
What is the Difference Between a Michelada and a Chelada?
Now, before we get into the purpose of this guide, let's differentiate a Michelada from a Chelada. A Chelada is a beer, tomato or Clamato juice, salt and lime. A Michelada adds a mixture of an assortment of sauces and spices. Whether it be peppers, hot sauce, soy sauce, Worcestershire sauce, or something else, a Michelada will have some extra spice and flavor.
Best Beer for a Michelada Ranked
In order to accurately rank our Micheladas, we had to stick with the same recipe for all the drinks. we used fresh squeezed lime juice, Worcestershire sauce, Cholula hot sauce, and beer with a salt rim. As a note, I highly recommend Cholula hot sauce for your Michelada (and for any food, too). So, without further ado, here is our list!
5. Tecate
Tecate is a Mexican lager brewed in Tecate, Baja California Mexico. It has a malty flavor to it and goes well with the lime juice in a Michelada, as Mexican lagers are known for. Tecate also allows room for the spices and sauces to shine.
4. Corona
Obviously, when we're talking about Mexican beer, Corona is going to be on the list. You can use a Corona or a Coronita for your drink. The lemon-lime flavors of a Corona are perfect for a more mild tasting Michelada.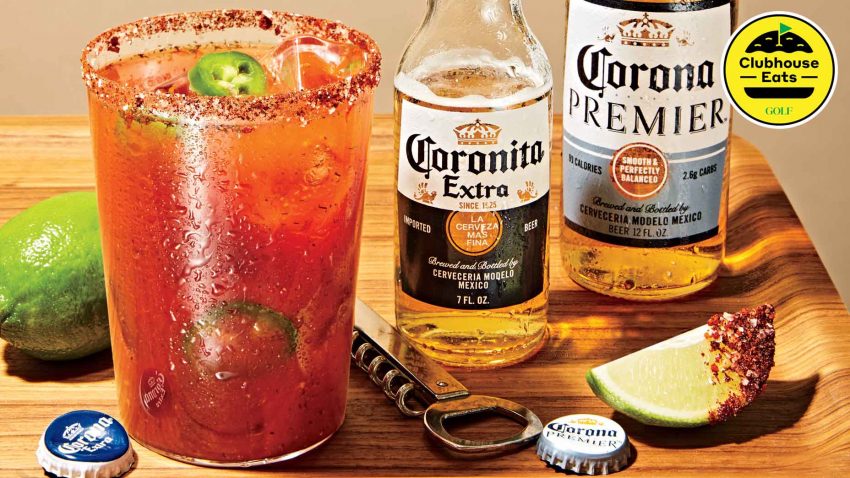 3. Landshark
While Landshark isn't a Mexican beer, it certainly shares many qualities with them. The light flavor of Landshark allows you to make a very spicy and hot Michelada. If you prefer a lighter one, it can allow the lime and Clamato juice to shine.
2. Pacifico
Pacifico was the second best beer for a Michelada, for us. It has a more full flavor than the other beers on our list which really allows all the flavors to blend. Instead of making a spicy Michelada or a lighter one, Pacifico allows for balance.
1. Modelo
Modelo has more body than the rest of the beers on our list. Like a Pacifico, it allows your Michelada to be balanced. You can enjoy the beer, sauces, spices, and juices all together instead of having one flavor shine. For this reason, Modelo comes in as our #1 best beer to use for a Michelada. Check out our article on Modelo vs Corona to learn more about these beers' similarities and differences.
Canned Michelada
If you don't want to go through the hassle of buying all the ingredients and making your own Michelada, there is another option. You can buy canned Micheladas. Nothing is going to quite compare to a homemade Michelada. You have your choice of beer, you can use your preferred sauce and spice, add as much or little lime as you like and so forth. With that being said, there are some good options out there and some you should avoid. Below we'll go over some of the best and worst canned Micheladas offered.
As a note, some of these options lack hot sauce, soy sauce, or other spices – making them Cheladas, not Micheladas.
AVOID – Bud Light Chelada
I like Bud Light. It's one of my go-to light domestic beers. However, it is not a good canned Chelada. You certainly don't have to use a Mexican lager to make a good one, but Bud Light is not a good option here. The Bud Light Chelada uses tomato juice, salt, and lime although it tastes more like plain beer mixed with tomato juice. The salt and lime are hardly detectable making this a canned Chelada to avoid.
AVOID – Budweiser Chelada Picante
At 5% ABV this Michelada is one of the stronger options you can go for. I thought this option may be better than the Bud Light Chelada, but it's really not. Or at least not by much. It has more flavor from the Picante seasoning and it's saltier, but it may be too salty. Overall, it's not great, and I'd avoid the Bud canned Cheladas if you can.
Good Option – Modelo Chelada Especial
It's no surprise that Modelo made our list as a good option for a canned Michelada as Modelo was our #1 best beer for this Mexican beer-cocktail. The reason this canned Michelada is a viable option is that Modelo didn't go overkill with the tomato juice. Lime is much more prominent with this option, has a better taste, and a much better mouthfeel. It still doesn't compare to a homemade, personal drink, but it will suffice. At 3.5%, it's a lighter option that's a good first drink on a Saturday or Sunday morning.
Good Option – Tecate Michelada
The key to a good, all around Michelada is balance. The Tecate Michelada does this. At 4.1% ABV, you can taste the beer, salt and lime is prominent, and the tomato juice has a kick. The reason is that this is meant to be a Michelada and not just a Chelada, so there is some extra flavoring and spices mixed in. It's still not as good as making one yourself, but if you're looking for a good canned Mexican Bloody Mary, Tecate Michelada is the way to go.
Summary of the Best Beer for a Michelada
You can use any beer to make a Michelada, but a Mexican lager is going to be your best bet to make a delicious drink. Any one of the 5 options we listed are viable beers to use, but Modelo was our clear favorite. Tecate and Pacifico are also great options to make a well balanced Michelada. I typically like my Micheladas more mild which is where Landshark and Corona can shine. Ultimately, making a perfect Michelada comes down to personal preference and trial and error. Make a couple to find out what portions work for you.
If all that is too much for you, there are always canned Micheladas. The goal of canned, mass produced drinks is to appeal to as many people as possible. You're not going to find a canned Michelada that you like more than a homemade one, but the convenience may be worth it. If so, Tecate Michelada and Modelo Chelada Especial are your best options.
Michelada FAQ
Below are frequently asked questions regarding Micheladas and the best beer for them.
How Do You Make a Michelada?
There are many different ways to make a Michelada, but the general idea is as follows. Beer, salt, lime, tomato or Clamato juice, hot sauce, and Worcestershire sauce. HERE is a good recipe to use from the spruce Eats
What is the Best Beer to Use in a Michelada?
This really comes down to personal preference. If you're not sure, start with a Mexican lager. Our favorite beer to use is Modelo.
What is a Chelada?
A Chelada is beer, tomato juice, salt, and lime. You can add hot sauce and soy sauce or Worcestershire sauce to turn a Chelada into a Michelada.