For those that suffer from gout, you know you can't really drink beer. Well, not without some very painful side effects, at least. The reason for this is that beer is typically high in purine which can cause gout flare-ups. Here at 52 Brews, we don't think you should have to give up beer for good, so we're putting together a list of purine-free and low-purine beer.
Before we get into the specific beers, let's cover some of the basics. What is gout? What is purine and why is it bad? Which beers can I still enjoy?
What Does Gout and Purine Have to do with Beer?
Gout is a form of arthritis that occurs in the joints – often in toes, ankles, hands and wrists; however, it can occur in any joint. When you get redness and swelling around joints, pain is likely to be a severe side effect.
According to Cleveland Clinic, gout is formed from an excess of uric acid in the body. The extra acid can form crystals around joints causing swelling and pain. And that's where purines come in. Purines occur naturally in some of our foods, one of which is yeast. Just as an excess of uric acid can form crystals, an excess of purines convert into uric acid.
So, to break it down, beer is made from yeast. Yeast has high levels of purines. High levels of purines convert into uric acid. High levels of uric acid crystalize and cause gout flare-ups. That's why if you have gout, you probably shouldn't be drinking beer. However, if you occasionally feel the need to have a beer every once in awhile, we've got you covered with the best beers to drink for people with gout.
Purine-Free Beer
For most people living in the US or UK, it's unlikely you'll be able to get your hands on purine-free beer. Sorry. These beers are primarily made in Japan and aren't available to purchase internationally. You're options are to travel there or have someone there bring it to you. Neither are great or common options.
However, if you do find yourself in a position to purchase some purine-free beer from Japan, here are the best options.
Nodogoshi Zero – 4% abv and zero purines
Kirin Platinum Double – 5.5% abv and zero purines
Sapporo Gokuzero – 5% abv and zero purines
Asahi Off – 4% abv and zero purines
If you can easily get your hands on these beers, they are definitely the way to go – at least from a purine and gout stand point. Since most of our readers can't, we are going to cover the best low-purine beers that are available in the US.
The 5 Best Low-Purine Beers for People with Gout
Let me preface this by saying that you probably shouldn't consume beer if you have gout, and I am no doctor. However, if you are looking to enjoy a beer with gout, there are some things you should do to help yourself. Exercise and maintain a healthy diet. If you have gout, you likely know that these are the two 'self-care' treatments. So, if you're going to drink beer, make sure you do everything else right. Another thing that can help is eating a lot of foods high in vitamin B and C which can neutralize purine levels.
Now, if you've been eating healthy and exercising, you may be ready to crack open a cold one. Again, we do not recommend drinking beer with gout, but if you're going to anyway, we're going to let you know what the best beers are and what the worst beers are for gout.
Before we get into the best beers to drink with gout, let's talk about beers to avoid. The first types of beer to avoid are those that are bottle-conditioned because these will have double the amount of yeast. So, avoid any beers that are labeled 'bottle conditioned', 'barrel-aged', or any high abv beers (stick to the 4-5% options). The next beers to avoid are unfiltered and wheat beers since they are highest in purines. Now that we've covered beers you shouldn't drink with gout, let's go over your 5 best options.
Ramapo Valley Passover Honey Beer
This gluten-free beer is brewed from herbs and spices, not grain. While most purines come from yeast, there are still some in wheat, barley, and other grains. Since Ramapo Valley Passover Honey Beer does not have any of those grains, it makes it a good option for those with gout.
There is one slight issue though. This beer will probably not satiate your desire for an ice cold beer. The Passover Beer is more of a cider than a beer, so while it's not as bad for your gout, it's not likely to be appreciated as a beer.
Anheuser-Busch Redbridge
Redbridge is a gluten-free and wheat-free beer produced by the same company that produces some of America's favorite beers. Redbridge is brewed from sorghum, created for people with wheat or gluten allergies.
While it's intended purpose wasn't for people who suffer from gout, it may be the best beer on this list for those with gout. Redbridge comes in at 4.8% abv and tastes how a beer is supposed to taste. So far, we've covered two gluten-free beers because they are better for those with gout. However, you're beer doesn't need to be gluten-free to have less purines.
Stella Artois Solstice Lager
Outside of purine-free and gluten-free beers, filtered beers are the next best beers for gout. Most light, domestic beers are filtered. So you're Coors, Miller, Bud Light aren't bad options, but the Solstice Lager is triple filtered. The process of filtering beer removes any left over sediment from the brewing process, one of which is yeast.
Stella Artois Solstice Lager is one of the best options for beer drinkers with gout. It has 4.5% abv, 105 calories, and only 4.5g of carbs, so not only is it low in purines but, also, calories and carbs. It is made with barley and yeast, so there will be purines – just not as many as most other beers. If you decide to drink this beer, it's still important to limit your intake.
*If you're interested in learning more about Stella Artois, check out our article: Everything You Need to Know about Stella Artois.
Michelob Ultra Pure Gold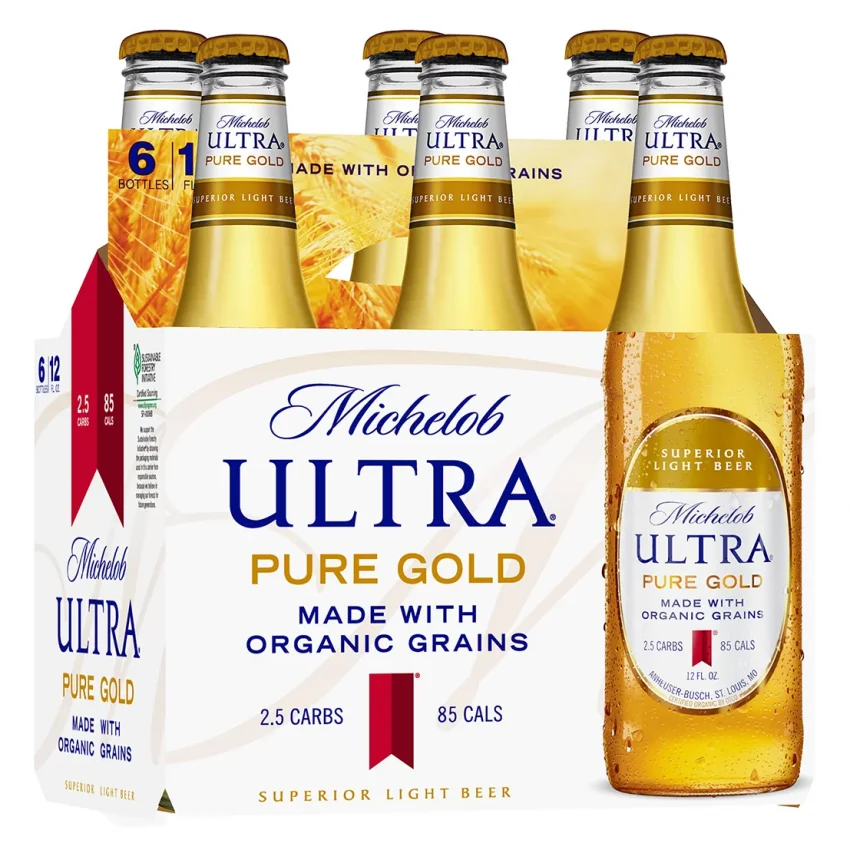 Years ago, a friend of mine brought over Michelob Ultra Pure Gold to my house. Now, Michelob is already known for being this super-light, weak beer, yet here I am looking at this newer, lighter version of Michelob Ultra. And then I saw it was organic. I immediately thought this beer was going to be just plain bad. I couldn't have been more wrong as it's probably my favorite Michelob out there.
Michelob Ultra Pure Gold is triple filtered and organic. Once again, there are going to be purines in this beer, but a lot less than most others. It has 3.8% abv, 85 calories, and 2.5 carbs, so it's a healthier option from that standpoint as well. When you add all of this up, it makes the Pure Gold one of the best beers you can drink with gout.
Keystone Light
Keystone Light is another triple filtered beer. When it comes to our 3 triple filtered beers on this list, Keystone Light is at the bottom for me. Not because it's bad, I just prefer the Pure Gold and Stella Artois. However, if you like Keystone this, is another beer that's going to be lower in purines. Along with that, you may even taste some nostalgia from your college years! All of this makes Keystone Light a better option for people with gout than most other beers.
The Best Beers for People with Gout Summary
Before I finish up here, I want to reiterate two things. First, I am no doctor, so you should really talk to one before you decide to drink beer. Second, there is no such thing as good beers for people with gout – the best beers just aren't as bad as others!
The absolute best beers for people with gout are purine-free beers. As we discussed, though, these beers are only sold in Japan, so it can be very difficult to get your hands on. The more viable option for most of us in the US or UK are gluten-free and/or triple filtered beer.
Gluten-free beer lacks barley and wheat, two grains that are higher in purines than other grains. However, gluten-free beer doesn't always taste like beer. You may not like it, or it simply might not satisfy your thirst for beer.
The best option, for a lot of people with gout, besides not drinking beer, will be to enjoy triple-filtered light beers in moderation. Stella Artois Solstice Lager, Michelob Ultra Pure Gold, and Keystone Light are great options for people with gout. I know it's not a nice hazy IPA or stout beer that you may have previously enjoyed, but that's something you likely have to give up when living with gout. There are other triple-filtered, gluten-free, or low-purine beers out there. We hope you've found at least one on our list appealing, but if not, do some research and find one you like!