Many Americans out there have never had a Radler. In fact, most people don't even know what Radler beer is. I'm here to change that. As we approach summer, you'll want to know what a Radler is, and you'll want to drink a couple.
It's the perfect mix of a wheat or lager beer with juice or carbonated juice. Popular choices are grapefruit, orange juice, carbonated lemonade, lemon-lime soda, and so forth. A Radler is often lower in ABV, though not always, than your normal beer due to this mixture of beer and juice.
Even though you may not have heard of a Radler, many craft breweries around the states brew one. So, this summer you'll have plenty of options to buy one or make your own!
Radler vs Shandy
If the concept of a Radler sounded very familiar to you, you were likely thinking of a Shandygaff, more commonly known as a Shandy.
Shandy's originated in England back in the 1700's. It's composed of 2 parts beer and 1 part carbonated juice or soda. It's most commonly served with ginger beer or ginger ale. A Radler is simply the German counterpart to a Shandy.
Check out Monthly Beer Clubs if you're interested in receiving different international beers every month!
History of Radler Beer
The Radler was created much later than the Shandy – it dates back to just June of 1922. It was originally called a Radlermass meaning "cyclist liter", but was shortened down. It's said that an Innkeeper set up a cycling trail that finished outside his pub.
Some 13,000 cyclists showed up and began draining Franz Kugler's supply of beer. Kugler quickly adjusted by creating a 50/50 mix of beer and lemon soda so as to preserve his supply for everyone. The cyclists not only enjoyed the beer, but found it to be a refreshing and healthy way to wind down after exercise. Since then, the German version of a Shandy, a Radler, was invented.
National Radler Day
Due to the refreshing style of Radler beer, we have decided to make one of the first days of summer, and one of the longest days of the year, National Radler Day. It was originally pushed by Hopworks Urban Brewer located in Portland, Oregon.
The idea is for breweries to promote their Radler beers during and/or after people go on a cycling trip. So, make sure you check to see if your local breweries have any special events going on this June 22nd.
Radler Beer You Should Try
As I mentioned, a lot of craft breweries offer Radlers. So, we've decided to create a list of just a couple of the Radlers we've had and enjoyed.
Karbach Lemon & Ginger Radler (Houston, TX) – 4.5%
Great Divide Roadie Grapefruit Radler (Denver, CO) – 4.2%
Boulevard Cranberry Orange Radler (Kansas City, MO) – 4.1%
Hopworks Urban Brewing Totally Radler (Portland, OR) – 2.6%
10 Barrel Brewing Swill (Bend, OR) – 4.5%
While Radlers are usually lighter and have less alcohol than most beers, there are still plenty of options above 4% ABV. If you prefer something lighter, many Radlers are between 2-4%.
Make Your Own Radler
If you don't want to venture to the store or a local brewery, you have the option to make a Radler Beer at home. You don't necessarily need a German beer to make a Radler, but if I'm going to make one – or teach you how – I'm going to do it the right way.
So, start with a pilsner or a helles styled beer, basically a pale lager is what we're looking for. For example, Heineken would be a common pale lager. Pour your beer into a glass and then add a citrus soda. My favorite is SanPellegrino as they have many flavors to choose from.
Now, ideally you want at least a 50/50 mix of beer to soda. If you want your drink to be stronger, there are two options. First, you can choose a stronger beer, or you can choose to use a mix of more beer than soda. A combination of the two will result in the strongest Radler.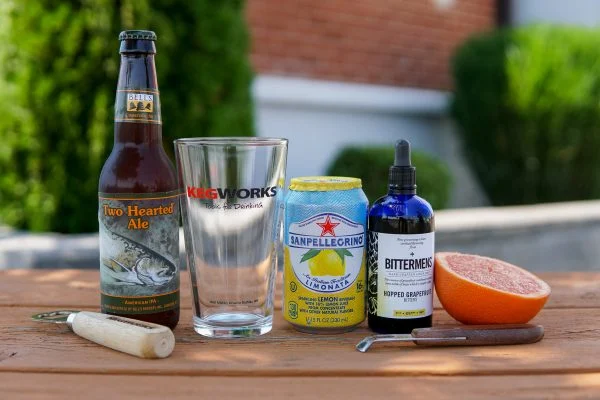 Radler Beer Summary
So, what do we think about a Radler beer? To summarize, I think it's a great summer drink to ease your way into a long day of drinking. If I'm going to the golf course, I don't want a 3% Radler. Hand me a nice imperial IPA please.
However, let's say we have an all day festivity of drinking going on. If I start crushing IPA's, I'm not going to make it very long. On a hot summer's day, kicking off with a lighter, refreshing beer is a smart and delicious way to start your day.
There really isn't much of a difference between a Shandy and a Radler other than country of origin. However, if your using German beer, you're better off calling it a Radler than a Shandy.
Regardless, there are many avenues for you to try a Radler. Head to a local craft brewery, ideally a German one, or make one yourself at home! You can experiment with different beers and different flavored sodas.
Radler Beer FAQ
Below are frequently asked question about Radler beers. Many of these are answered in the article above.
What is a Radler?
A Radler is a beer mixed with some sort of juice or flavored soda. Most commonly used is carbonated lemonade or carbonated citrus drinks.
Where Can I Buy a Radler?
A lot of craft breweries offer Radlers, although I'd start with German styled craft breweries. You can also head to any liquor or beer store as they should have some available for sale.
What's The Difference Between a Radler and Shandy?
They are essentially the same thing. In England, the mixture of beer and carbonated juice, usually ginger beer and ginger ale, was originally called a Shandy. This was a foreign idea to Germans until they stumbled upon their own version and named it a Radler.
What Does Radler Mean?
Radler means "cyclist". Originally the drink was called Radlermass, or "cyclist liter".