When you think of America and beer, there are probably a couple things that come to mind. Budweiser, bald eagles, sporting events. Maybe you even think of Busch and hunting or Natty Light and college parties. Regardless, you're probably not thinking of Yuengling even though it's the oldest brewery in the US and the largest craft brewery in the US.
In this article, we're going to cover all there is to know about Yuengling – their history, status as a craft brewer, and all the beers they produce. I mean, as the largest craft brewer in the US, they don't just make their tradition Yuengling Lager. We'll discuss the Black & Tan, Golden Pilsner, Flight, Raging Eagle, their chocolate beers, premium beers, and more. This is your home for all things Yuengling.
Before we go any further, there is one thing we have to clarify. Yuengling isn't available across all states of the US, so many people haven't even heard of it, and you'd be surprised by how many people don't know how to pronounce the name. So, let's put this to rest now. Yuengling is pronounced Ying – Ling.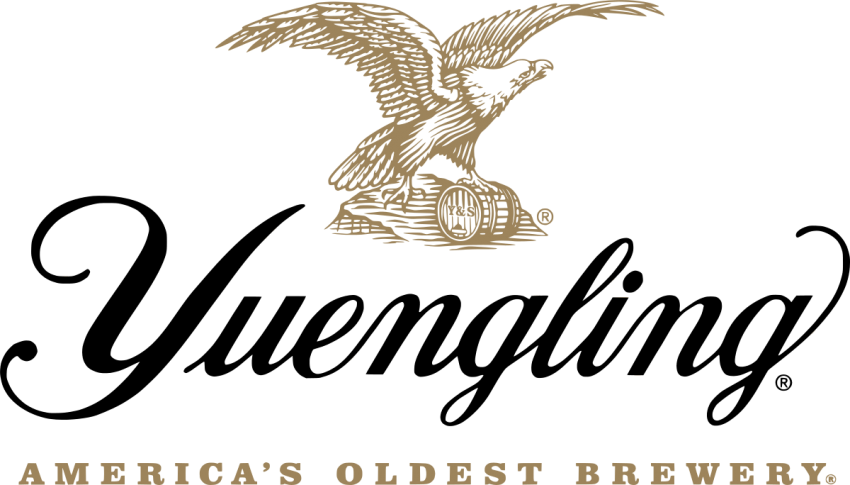 Yuengling History
David G. Yuengling arrived in Pottsville, Pennsylvania in the early 1800's. By 1829 he had established Eagle Brewery and began brewing Lord Chesterfield Ale and Dark Brewed Porter. After a fire burned down Eagle Brewery, a new one was assembled down the street. It's this brewery that still stands today that is known as America's oldest brewery.
At the time prohibition came about, D.G Yuengling & Son, Inc. had been passed down two generations. Frank Yuengling began producing near beer products and ice cream to stay afloat. To this day, Yuengling still serves ice cream across from their brewery.
Present day, Dick Yuengling is a 5th generation and full owner of D.G Yuengling & Son. His 4 daughters join him working at the company in some capacity.
America's Largest Craft Brewer
Craft beer has been an ever growing portion of the beer industry over the last quarter century. Again, many of us may think of IPA's or fruity sours with ridiculous names, not Yuengling even though it's the largest craft brewery in the US.
While craft breweries sell their brand to companies such as AB In-Bev, Molson Coors, Kirin, and other mass producers of beer, Yuengling has continued to be a family led company. It's currently in the hands of the 5th generation with the 6th primed to take over.
To be classified as a craft brewer, there are really two standards or regulations you must abide by. First, you must produce less than 6 million barrels of beer a year. Second, 25% or less of the company can be owned by a beverage industry leader such as AB In-Bev. Yuengling is 100% family owned and produces roughly 2.6 million barrels of beer a year. The next largest, Boston Beer Co., producer of Samuel Adams, produces nearly 1 million less barrels a year.
Yuengling Breweries: Pottsville, Mill Creek, Tampa
Over the recent years, Yuengling's demand has skyrocketed. They even cut down on their market size. Yuengling was only supplying beer to 22 states, all on the eastern portion of the US. Even with a smaller market, they still needed more supply.
While the oldest brewery in America still stands in Pottsville, PA, Yuengling built and expanded a brewery just 3 miles down the road in 2001 and 2009, respectively. They also purchased a brewery at the southern edge of the easter US in Tampa, FL. This wasn't enough, so in 2020, Yuengling broke ground on expanding their Tampa brewery to produce more beer and include a more family-friendly environment.
Yuengling and Molson Coors Joint Venture
Yuengling and Molson Coors formed a joint venture named The Yuengling Company in 2020. The Yuengling Company is to oversee market expansion outside of their original 22 states. The first of which was Texas. In 2021, The Yuengling Company took Yuengling's flagship beers to Texas to begin selling and marketing their beers.
Beers Brewed by Yuengling
Now that we've covered the basics behind the largest craft brewer, let's get into the important stuff. In this section, we are going to cover the 12 beers produced by Yuengling and everything you need to know about them – their ABV, calories, carbs, and taste. To note, we are sourcing the nutritional info direct from Yuengling's website.
Yuengling Traditional Lager
Yuengling had been brewing beer for over 150 years when it finally decided to reintroduce the traditional lager as it's standard beer. It's an amber lager that was brought back in 1987 with the help of Dick Yuengling and brewmaster Ray Norbert.
The Traditional Lager uses roasted caramel malt and cluster and cascade hops. It's not uncommon for Pennsylvanian's to add salt and pepper to this tasty beverage.
Traditional Lager ABV & Calories
Yuengling's staple beer, the Traditional Lager, has 4.5% ABV and 12 IBU's. A 12 ounce bottle has 141 calories and 12 carbs.
Light Lager
Yes, even craft brewers produce light beers in order to appeal to those who are watching their calories or want a lighter sip. Yuengling Light Lager is meant to have the same flavor profile as the traditional lager but at less calories and carbs.
Light Lager ABV & Calories
The Light Lager comes in just below 100 calories at 99 and only 3.2 g of carbs. While it certainly saves in the calorie and carb department, there is less alcohol, clocking in at 4.0% ABV. It is a bit more hoppy than the traditional lager as well at 15 IBU's.
Lord Chesterfield Ale
Yuengling Lord Chesterfield Ale was one of the first beers they every produced. The main difference between the Lord Chesterfield Ale and the Traditional Lager is, you guessed it, it's an ale instead of a lager. To understand the difference, check out our lager vs ale guide.
Lord Chesterfield Ale ABV & Calories
In a twelve ounce bottle of Lord Chesterfield Ale, there are 157 calories and 10.5 carbs. It's a bit stronger and hoppier than the others so far with 5.4% ABV and 32 IBU's.
Dark Brewed Porter
Along with the Lord Chesterfield Ale, the Dark Brewed Porter was one of the original beers brewed by Yuengling. Dark Brewed Porter has notes of caramel and chocolate with a creaminess reminiscent of Guinness. It's this beer along with two others that makes Yuengling one of the largest producers of porter beers in the country.
Dark Brewed Porter ABV & Calories
Dark Brewed Porter is the heaviest beer so far on this list in terms of calories. It comes in at 163 calories and 15 carbs in a 12 oz bottle. Dark Brewed Porter also has 4.7% ABV and 20 IBU's. As someone who's not a huge fan of porters and stouts, I actually find this to be a pretty good beer.
Premium
Yuengling Premium is much like their Traditional Lager, but it has a more light and crisp profile. It's a pilsner style lager with a golden color. Think of this beer much as you'd think of your normal domestic beer, such as Coors Original.
Premium ABV & Calories
Just like their traditional lager, Yuengling Premium has 4.5% ABV and 12 IBU's. The nutritional info is also the same with 141 calories and 12 carbs.
Premium Light
Yuengling Premium Light is simply the light version of the Premium. They brew this beer longer in order to reduce the sugar content and produce a beer with fewer calories. If the premium is like Coors Original then the Premium Light is like Coors Light (however I think the Premium Light has more flavor than a Coors Light).
Premium Light ABV & Calories
My biggest problem with Yuengling Premium Light is the alcohol content and carbs. While there are only 98 calories, there are 6.8g of carbs and 3.5% ABV. The Light Lager has .5% more alcohol and half as many carbs with only one more calorie. Ultimately, not a bad beer, though.
Black & Tan
Yuengling Black & Tan is a 'half and half' beer that was first brewed in 1986. It combines 60% of the Dark Brewed Porter with 40% of their Premium Beer. In addition to having 60% instead of the 40%, the Dark Brewed Porter has stronger flavors than the Premium, so that's the primary flavoring you get with Black & Tan.
Black & Tan ABV & Calories
As you could've guess, Yuengling Black & Tan's nutritional info falls right between the Dark Brewed Porter and Premium beers. It clocks in with a 4.6% ABV, 17 IBU's, 153 calories, and 15 carbs. I would prefer to drink either the Premium or the Dark Brewed Porter instead of the combination that makes up Black & Tan.
Golden Pilsner
Yuengling Golden Pilsner might be my favorite beer they offer. It's light and refreshing, but doesn't lack flavor or alcohol. As you can guess, it's a pilsner and golden in color. It's an all-malt beer that uses Saaz and Hallertau hops.
Golden Pilsner ABV & Calories
At 135 calories and 4.7% ABV, Yuengling Golden Pilsner is the best bang for your buck. There are lighter options offered, but not too many with 4.7% ABV. It also has only 9.3g of carbs ad 18 IBU's. This is my favorite beer Yuengling offers as I think it's the most balanced and refreshing.
Flight
Yuengling Flight is their "Next Generation of Light Beer". It's much like Michelob Ultra in that it's marketed towards those who lead an active lifestyle. VinePair notes these similarities between Michelob Ultra and Yuengling Flight.
Flight ABV & Calories
The reason there has been a lot of talk about Yuengling Flight, in addition to their marketing, is the nutritional info. It only has 95 calories and 2.6g carbs while maintaining a 4.2% ABV – the exact same stats as Michelob Ultra. With 7 IBU's this is a really light and crisp beer that lacks much of a hoppy and bitter taste.
Raging Eagle
Yuengling Raging eagle is a mango flavored pilsner. It's not a particularly hoppy beer, so mango is the dominating flavor. If you like fruity and sweet beers, this is a solid option for you. I would probably prefer a hazy IPA, though.
Raging Eagle ABV & Calories
At 6% ABV, Yuengling Raging Eagle is the strongest beer in their year round selection. It has 172 calories and 12.5 carbs. While there are more calories than most other beers, this is due to a higher ABV percentage. With only 11 IBU's the beer is more sweet from the mango flavoring than bitter from hops.
Oktoberfest
Yuengling Oktoberfest is a seasonal offering from the months of August – October. It's a German styled marzen beer that is meant to pay homage to Yuengling's history and heritage. While Yuengling is America's oldest brewery, it all started with a German immigrant. This beer uses a blend of Tettnang and Hallertau hops.
Oktoberfest ABV & Calories
Yuengling Oktoberfest has 5.3% ABV and 14 IBU's, so like a lot of their beers, it isn't very hoppy. It is a bit sweet, but there is a balance as well. In a 12 oz bottle there are 169 calories and 10.6g carbs.
Hershey's Chocolate Porter
Hershey's Chocolate Company and Yuengling Teamed up together on this one to create a Chocolate Porter. The biggest thing here is really just the history behind the two companies, as they are two of Pennsylvania's most iconic brands. Yuengling Hershey's Chocolate Porter is a seasonal beer offered in the fall months.
Hershey's Chocolate Porter ABV & Calories
It will likely come at no surprise that Yuengling Hershey's Chocolate Porter has the most calories of all their beers. It contains 185 calories per serving with 4.7% ABV and 20 IBU's. As a native Pennsylvanian who grew up going to Hershey Park, I'm excited to try one of these beers when they hit the shelves for the fall of 2022.
Yuengling Summary
Located in Pottsville, PA, America's oldest brewery still produces Yuengling beer. Whether or not you care for their beers, there is something about their history that commands respect. The fact Yuengling is still a craft brewery is impressive, and it's managed to stay in the same family for almost 200 years now. In the day and age of large beverage companies buying up every craft brewer out there, Yuengling has stayed true to their family and heritage.
We provided overviews of all 10 of Yuengling's year round beers and their two seasonal offerings. They mostly specialize in pilsners, but also have a couple of porters and an ale available. So, Yuengling has a beer for most everyone to enjoy.
If you're looking for a light beer, my favorite is Yuengling Flight. It's the healthiest option and maintains a solid alcohol percentage. My favorite, however, is Yuengling Golden Pilsner. Of course, there is no going wrong with their Traditional Lager either. Regardless of what you prefer, I recommend giving Yuengling a try if its available in your state!
FAQ
Below are frequently asked questions regarding Yuengling and the beers they offer. Many of these are answered in the article above.
Where is Yuengling available?
Yuengling beers are available across 23 states – PA, NY, MA, RI, CT, NJ, DE, MD, OH, IN, WV, VA, KY, NC, SC, TN, GA, FL, AL, MS, LA, AR, and TX – as well as DC. 22 of the states serve as the original coverage area, but after their joint venture with Molson Coors, it's also available in Texas.
How Do You Pronounce Yuengling?
Ying – Ling.
Who Owns Yuengling?
Dick Yuengling is the owner and CEO. He is a 5th generation and his 4 daughters work for the company as well. They have no plans to sell to any beverage company, and they plan to keep the business in the family.